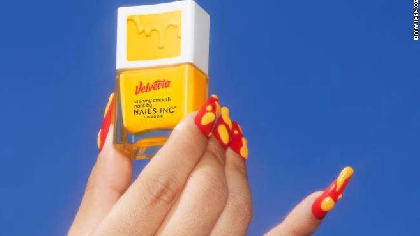 How Cheesy Is this?
It's Literally Finger Food
Cheese-lovers can now wear their favorite dairy product on their fingertips, thanks to Velveeta cheese and British nail polish brand Nails Inc. A limited-edition set of 2 cheese-scented polishes are going for $15 on the Nails Inc. website. It includes 2 shades: "Finger Food," a bright red, and "La Dolce Velveeta," a creamy yellow color. The polishes' signature cheesy scent only appears when they are dry.
"These highly pigmented shades provide full-cover payoff and are designed to be worn together for those confident enough to show the world they are living a big, bold, and unrestrained life," says Nails Inc. The collaboration is a part of Velveeta's "La Dolce Velveeta," campaign, "which is all about stepping out in a confident, unapologetic way to show the world that you're living a life filled with outrageous pleasure,"
Although Velveeta's products are not vegan, the formulation of both colors is vegan and cruelty-free, according to Nails Inc.
The collaboration also includes a set of Velveeta-themed nail stickers featuring gooey cheese graphics and the phrases "creamy" and "drip."
Will YOU try this outrageous product?